MaPS teach two hour intensive workshops on the Adobe Creative Suite, DSLR cameras and audio recording gear. Workshops are taught by our experienced team and aim to help you hit the ground running on your next production project!

Workshops are released in stages throughout the semester: Stage 2 Workshops are now LIVE!

Check out our online resources in the Tutorials tab for our online training alternatives!
Do you have access to Adobe
for software workshops?
You must be enrolled in one of the below courses to access Adobe Software:
COMU1140, COMU1152, COMU2120, COMU3015, COMU3100, COMU3110, COMU3150, COMU3202, COMU3222, COMU3801, COMU7103, COMU7304, JOUR3100, JOUR3122, WRIT7070.
• If you aren't enrolled in at least one of these courses, your student login will not open Adobe Software at home or in UQ labs so you will not be able to use it in a MaPS workshop as is required.
• Please ensure you have Adobe access before attending a software workshop. Unfortunately, MaPs is unable to troubleshoot login issues if you arrive for a software workshop and do not have software access.

• Talk to your course coordinator if you have any further questions about access to Adobe software.

• Access commences Week 1 and ceases at the end of the first examination week.


NOTE: Workshops are only open to students within the School of Communication and Arts.
Check out our workshop breakdowns below: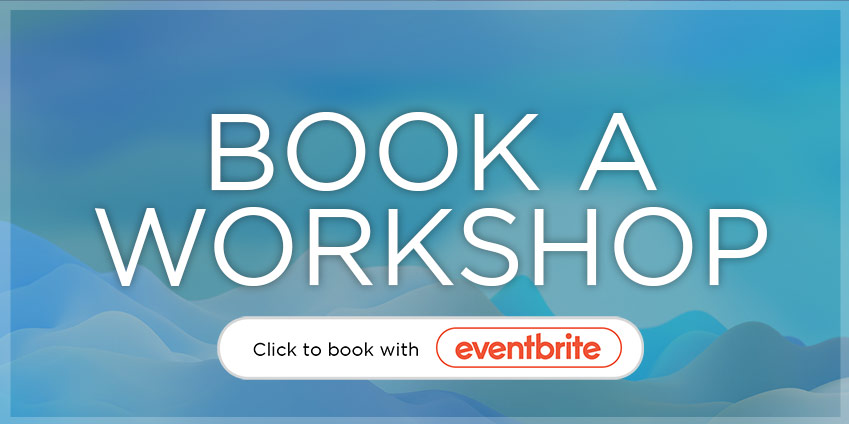 We use Eventbrite for managing our workshop bookings. Please use an active email to receive workshop changes or updates.
WORKSHOPS BREAKDOWN
Audio recording and editing with Audition
Students will learn basic audio recording and editing skills so they can produce quality audio packages in the field.
How to record in the field using the Zoom H1 audio recorder
Audio recording techniques and best practice.
Importing audio files into Adobe Audition editing software.
Mixing and editing multiple tracks of audio
"Exporting as" various file types
Photography foundations
Students will learn how to take photographs on a DSLR camera. They will be introduced to the basic components of manual photography and learn how to control the camera's settings to produce different effects. The manual controls taught in this workshop are also applicable to videography.
How to take photographs using a Canon 80D DSLR
Introduction to the three contributing factors of exposure (Aperture, Shutter speed and ISO)
Introduction to the secondary effects of these factors (depth of field, motion freeze/blur)
Practical exercises utilising the manual settings of the camera
Digital video production foundations
Students will learn how to capture good quality video and audio using the Canon 80D, tripod and an external microphone.
How to record video to a Canon 80D DLSR
How to use external microphones in conjunction with the DLSR
The BE-SAFE Shooting System
Basic interview technique
Basic cutaway technique
Practical exercise filming interview and cutaway footage
Video editing foundations with Premiere Pro
Students will learn how to import, edit, order, title and export vision to create quality video packages
Tour of the Adobe Premiere Pro interface
Correct file-management for video editing
Importing vision into Premiere Pro
Making cuts to vision
Reordering vision
Using cutaway to disguise edits
Adding titles to speakers
Appropriate transitions
Basic colour correction
Keyboard shortcuts to expedite the editing process
Correct export settings and file sizes
Photo editing with Photoshop
Students will learn basic Photoshop techniques used by photographers to improve their images
Tour of the Adobe Photoshop interface
Correct file-management for editing photographs
The importance of 'layers' in Photoshop
How to adjust images using levels, curves, shadows and highlights.
Retouching images
Removing objects from images
Adjusting areas of an image using masks
Resizing images and image file size
Print publishing with InDesign
Students will learn to design and create a well laid-out page or spread, including type, images, graphic elements and colour.
Tour of the InDesign interface
Explanation of basic principles in relation to both print and online
Using guides and margins to create a design template
How to apply text, colour and graphical elements
Inserting images
Keyboard shortcuts to expedite the design process.
Exporting packages and PDF's
Creating an online folio with wordpress.com
Students will learn the fundamentals of online publishing, with a view to creating a personal portfolio website using wordpress.com.
Getting started with wordpress.com
Creating pages and posts
Editing and publishing
Adding content, Implementing categories and tags
Adding digital media including photos, video and audio
Creating a contact page
Using themes
Integrating with social media