The Jactech gear loans desk will open a final time Friday March 27 to accept returns only and will then close for the foreseeable future.
If you have gear out on loan, please return on Friday if safe and possible for you to do so. Please email Jactech at [email protected] if you are unable.
We apologise for the uncertainty at this time, but assure you we're still here to help from afar!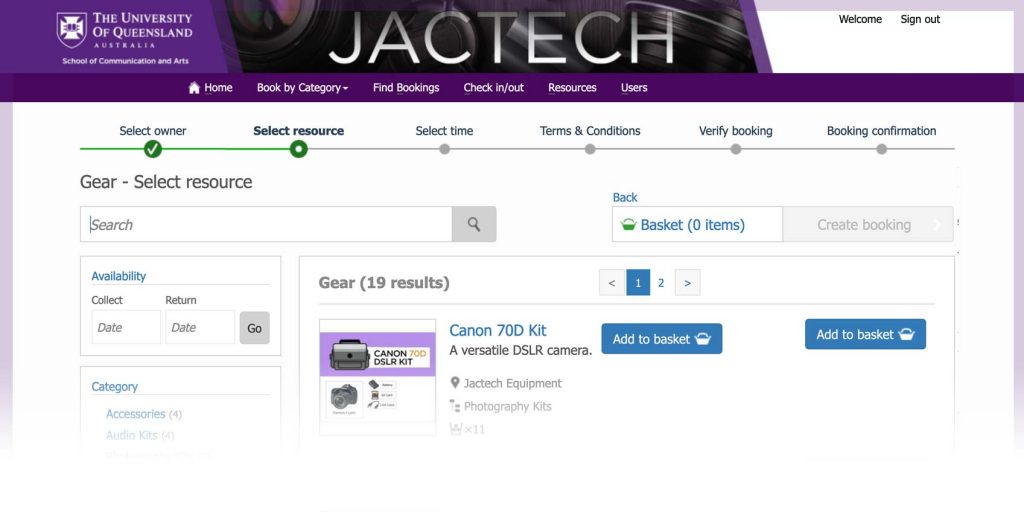 JACtech's new loans system is more streamlined and has a host of new features like being able to book multiple items in one go, and being able to see the availability of kits and studio spaces.

How do I access the new system?
The new system requires you to have permissions applied to your account before booking equipment and other facilities.
For both new and continuing students, you will need to be given "permissions" by JACtech staff after your first login to the new JACtech platform. By default, you can log in, but cannot access anything.
To get access:
Click the green 'Book Gear' button below to open a new tab
Click the blue 'Sign in to your account' button
Click the blue 'Sign in with your 'UQ-Jactech' button
NOTE: This step MUST be done before step #5 Log in with your student name and number. (You will not have permissions to place a booking on your first login).
Send an email to

[email protected]

with the subject "New user" and send your full name, the name of your degree, and full student number (8 numbers, without the 's' at the beginning).
Within 1 business day, JACtech staff will give you the basic permissions and also add permissions for DSLR cameras if you have already done the training. We will email you back to advise when this is done.
When you next log in, you will be able to book gear and studio time.