STEP 1 – Introduction video
For information on how to use the studio recording booths in the Ideas Space, follow this quick-start 3 minute guide. This video will get you through setting up the equipment, and preparing Adobe Audition for recording.
STEP 2 – Audio Booth Computer Set up and Audio Preferences
STEP 2 – Middle booth setup
After watching the Step 1 introduction video, use this image as an extra checklist if you have setup troubles. The middle booth has the option for two microphones. Follow the number order to cross check the gear.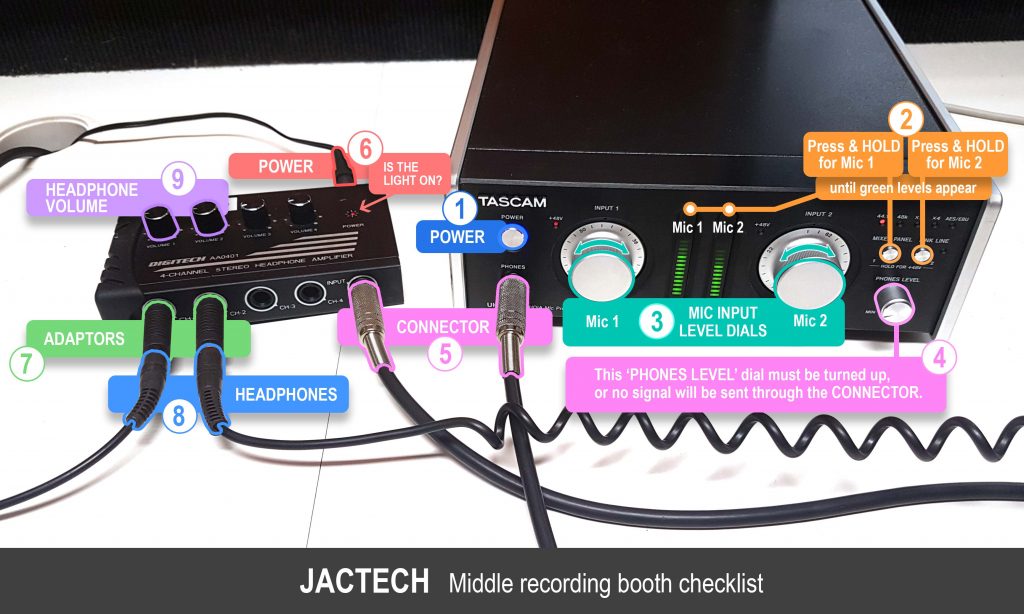 Troubleshooting:
When using the booths you may have small unknown reasons why your recording isn't working. Check through these fixes below and it should get you back on track!
Wrong device –
Sometimes Audition is looking at the wrong device and can't 'see' the microphones correctly. Fix that by clicking:
– Edit / Preferences / Audio Hardware
– Make sure 'Device Class' is set to 'ASIO'
– Make sure 'Device' is set to 'UH-7000'